Welcome to What We're Doing, What We're Reading - it's been a busy week so let's get to the headlines!
In New York, Governor Cuomo unveiled his 2017-18 budget proposal Tuesdayevening at the Executive Mansion. He called for a $1 billion increase in school aid, saying, "The people of the state believe that education is a priority. I agree with them, and we put our proverbial money where our mouth is." Our NYS Director Andrea Rogers broke down the budget proposal and what it would mean for charters in an email she sent out to schools this morning. We'll be keeping close watch as the Senate and Assembly put their proposals together, and as always, we'll be monitoring the Capital during budget negotiations. We'll be keeping our members updated as the process continues through the April 1st budget deadline (and hopefully no later!) 



Governor's Mansion in Albany
---

Speaking of budget and legislative session, we're gearing up for the 13th annual Charter School Advocacy Day on Tuesday, February 7 in Albany where families and educators have a chance to meet face-to-face with the lawmakers who enact policies and laws that affect charter schools.

We're partnering with our friends at the NYC Charter School Center again this year, and can't wait to see so many of our friends in the charter community next month.


Charter school dad at Advocacy Day 2016

WHAT WE'RE FIGHTING FOR:
Parity in Funding: Charter school funding continues to trail behind the district's. Parity in funding, including fair facilities funding, remains a top priority.


A Cap Lift: With only 30 charters left to be authorized in NYC, 

we

 will likely run out of new charters there by the end of 2017. 

We

 are asking our legislators to remove the arbitrary cap on quality once and for all!
For questions or to RSVP, please contact Andrea Rogers atarogers@necharters.org or Duncan Kirkwood at dkirkwood@necharters.org 


Event being co-hosted with: 

---

ICYMI -- 

Buffalo educators and parents - we have a great event we wanted you to know about at King Center Charter School on Feb. 4th. We are so happy to help spread the word about this awesome event and are proud to be a sponsor!

For the second year, the school is hosting a free event open to all Buffalo students in grades 7-12 who are interested in learning more about Historically Black Colleges and Universities (HBCUs) around the country, as well as navigating the college admission process. 
The school will be hosting the event on Saturday, February 4. The goal is to expose students to a variety of post-secondary school options, as well as the college admissions process. Parents are welcome. This is a free event and lunch will be served.
WHO: King Center Charter School with Alpha Kappa Alpha Sorority, Inc. GPO & XEO Chapters; students in grades 7-12 invited, and parents welcome. 
WHAT: The Historically Black Colleges and Universities (HBCU) Think Tank
WHEN: Saturday, February 4, 2017. 10am-3pm
WHERE: King Center Charter School, 156 Newburgh Ave, Buffalo, NY 14211
For more information, please contact King Center Charter School's Gizelle Stokes at 716-891-7912 ext 270 or gstokes@kccs.org.
Register students here: https://aka2ndannualhbcuthinktank.eventbrite.com
---
And this morning in Harlem, our very own NYS Director Andrea Rogers guest taught an 8th grade class at DREAM Charter School in Harlem. She broke down the tricky issue of charter school funding in a way that students could understand and said it was a great morning with amazing students!


---
In Connecticut, we expect the Governor's proposal in mid-February and we'll break down what that means for charters once it's unveiled. 


Capital Building in Hartford
While 
we
 wait for the details, 
we
 continue to call on the state to reject the dangerous proposal to cut $11 million from the state's charter school community. 
And we still need you to take action!

These cuts would only make circumstances worse for charter schools, which are already severely underfunded. We must protect Connecticut's charter schools from damaging and dangerous budget proposals. 
Please tell the Governor and Education Commissioner to reject this proposal. 





You can see our statement on the cuts here.
---
Tuesday evening, we also kept an eye on the confirmation hearing for Betsy DeVos who President-elect Trump nominated for US Education Secretary. Prior to the hearing, NECSN submitted a letter of support of Ms. DeVos to the U.S. Senate Committee on Health, Education, Labor and Pensions (HELP) as well as Senators Schumer and Gillibrand from New York and Senators Murphy and Blumenthal from Connecticut. 

You can read our letter of support here.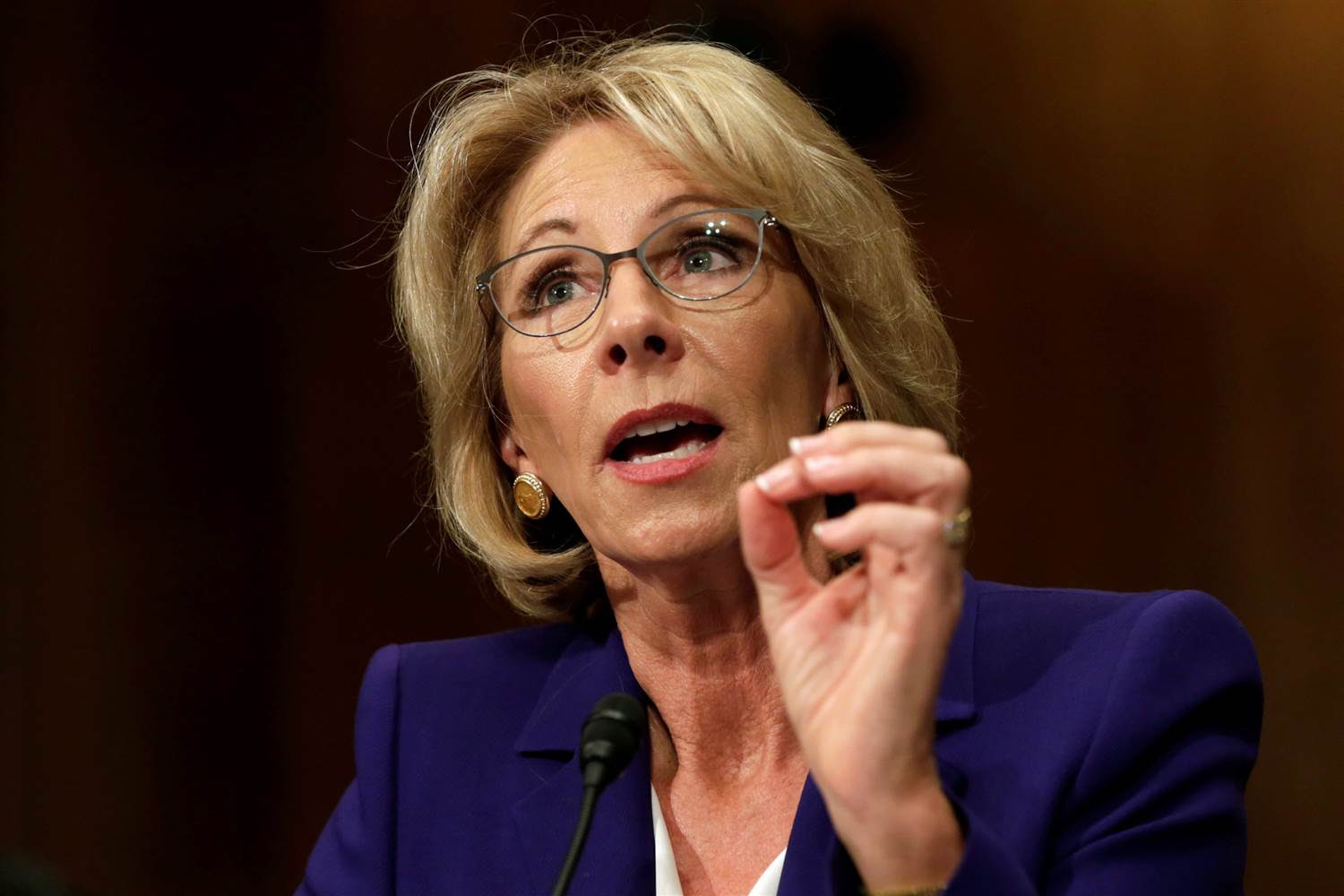 Betsy DeVos during 

Tuesday's

 confirmation hearing (Photo Credit: Yuri Gripas/Reuters)
The hearing was heated at times, but school choice proponents applauded Ms. DeVos work to expand charter schools and provide more public school options to children and families. 
Civil rights activist and education reform advocate Dr. Howard Fuller talks about why he supports Ms. DeVos. You can watch his testimonial here. And Nina Rees of the National Alliance for Public Charter Schools penned this piece in US News on DeVos and how folks on both sides of the political aisle should come together for the benefit of all students. 

For more on the hearing, check out coverage from the Wall Street Journal here, and the New York Times here.
---
Last week, the Connecticut CEA lodged another baseless attack on charter schools, this time taking aim at CMOs and their related fees. 

Jeremiah Grace responded, saying, "The CEA is really grasping at straws with these baseless accusations. They know that nothing they said worked to slow down parent demand or public support for charter schools last year so they'retrying something new but as always, the facts speak for themselves.
"CMOs are non profit by law in Connecticut and exist so that schools can concentrate on the work of teaching kids. They do many things: the school's back office work, help secure the school house building, provide a range of services such as recruiting and hiring of teachers and staff, professional development and training, curriculum, and data analysis just to name a few. In essence, they perform like a district's central office." 

"At a time in which all of Connecticut's schools must work hard to close the achievement gap and reconcile a deficit in excess $1 billion, the CEA is unfairly targeting CMOs and falsely interpreting information without taking note of the expenditures of all types of schools.  And something the CEA doesn't tell you - charter schools students continue to receive significantly less than district school kids, on average about $4,000 less per student. Charters outperform and spend less."

We're currently working on additional ways to respond and will keep you posted. For now, coverage can be found here, here, here, and here. 
---
New York News
Huge shout out to New Roots Charter School in Ithaca for its five year renewal. The school got some nice press coverage here. 

The Buffalo News previewed the King Center event next month aimed at exposing students to Historically Black Colleges and Universities (HBCUs). 

WHEC in Rochester spoke to Renaissance Academy Charter School families and educators about how charters are providing much-needed options in the city, in light of the Betsy DeVos confirmation hearings. 

And today in Albany, charter parents and educators rallied for increased charter funding and an end to the cap on charters. We'll be keeping the pressure on lawmakers and making noise again in a few weeks when we hold our statewide Charter School Advocacy Day!
Connecticut News
New Beginnings Family Academy's Ronelle Swagerty pushed back hard against Hearst columnist and charter foe Wendy Lecker with this amazing piece in the Stamford Advocate on all the good charters are doing. 

And an Explorations Charter School mother with a child attending the charter and kids who attended traditional district schools penned this piece about the importance of allowing families to choose the school that best fits the needs of their children.  
---